A package that arrives damaged is bad news for everyone, whether you're the manufacturer, retailer or end user. The retailer is unable to accept/sell the product and will need to process a return. The customer can't use the product. As a manufacturer, you'll likely need to file a shipping claim and send more product in its place. Damaged product has a negative impact for all those involved in the supply chain.
Not only is damaged product a financial loss, but there's also the brand reputation to consider. The Association for Packaging and Processing Technologies (PMMI) reports that the cost to replace a destroyed item can be up to 17 times the cost of shipping, and it can take months for negative website reviews to counterbalance the positive ones. Clearly, there's a lot at stake for manufacturers and retailers.
Last week, we talked about the benefits of using a double-sided tape in protective packaging, focusing on the interior packaging. Equally important is ensuring the product is protected from the outside.
Protective Packaging Adhesive Keeps Your Pallets Free from Damage
The better you protect your pallet, the less likely your product and packaging will sustain damage. Protective packaging solutions such as corner boards/edge protectors provide protection and support to improve stacking strength and maintain load integrity. Maybe you are already using corner boards to protect your product loads. But what if there was a way to make applying these protective packaging solutions easier?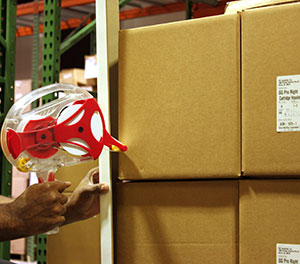 Let's look at two ways a pressure-sensitive, double-sided tape can help protect pallets:

Maintains load integrity by securing corner boards
During the shrink wrapping process, it can be a pain to hold corner boards in place. Attaching corner boards with a double-sided tape provides an instant bond that secures them in place. Since pressure-sensitive adhesives are available from removable to permanent tack levels, the corner boards can be easily removed by those receiving the product shipment.
Stabilizes pallet by attaching boxes to one another
Pressure-sensitive adhesives can be applied to individual packages to stack each one on top of the other. This type of double-side tape is completely removable once your pallet has reached its destination.
Using double-sided tape as a protective pallet solution can reduce your product damage and make your application easier. As you research protective packaging solutions, please do not hesitate to contact us for additional information. Our line of Adhesive Squares products accommodates many shipping and handling applications. Contact our technical service team at 1-800-844-1740 or use the contact form below. A technical representative will quickly respond to discuss your application in more detail.