Double-Sided Tape for Case and Carton Sealing/End of Line Packaging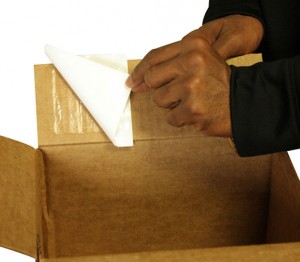 Case & Carton Sealing
From the packaging line to its final destination, you want to be sure your product is securely packaged every step of the way. Adhesive Squares™ double-sided tape provides an instant bond that ensures your packaging will hold up, while also driving down labor costs and increasing your productivity. These custom-sized, pressure-sensitive adhesive squares are a reliable solution for case and carton sealing as well as general packaging of consumer items.
Case & Carton Re-working/Re-sealing
From pop-opens in the plant to last-minute quality inspections, there are many reasons why repackaging/reworking may be necessary. Reworks are more than inconvenient; they can increase your costs and hurt your bottom line.
When your product is shelf-ready, the last thing you want is for the packaging to pop open and deter customers from making a purchase. A double-sided adhesive film like Adhesive Squares™ instantly seals product packaging and provides a last-minute solution to re-sealing unexpected pop-opens.
Unlike tape, which is clearly visible, Adhesive Squares™ are applied on the inside of flaps and are invisible and discrete, not calling attention to a package that has been reworked.