More than ever, contract packagers need versatile adhesives that will increase their efficiency – especially at times when the adhesive fails, or a quality analysis must be performed. Whatever the cause may be, the box is no longer sealed and you need to perform a rework.
When this happens, it's important to have a product on hand that can efficiently take your packaging from non-compliant to shelf ready. This way, you never miss a beat during production.
There are a variety of products available to co-packers, but which adhesive is a good solution for repackaging? Although hot melt glue sticks are commonly used, pressure-sensitive, double-sided tape offers an instant bond with increased safety and convenience.
We compared double-sided tape in four categories against glue sticks (specific to reworking packaging) for:
Safety
Convenience
Ease of Use
Speed
The infographic below highlights the benefits of double-sided tape compared to glue sticks: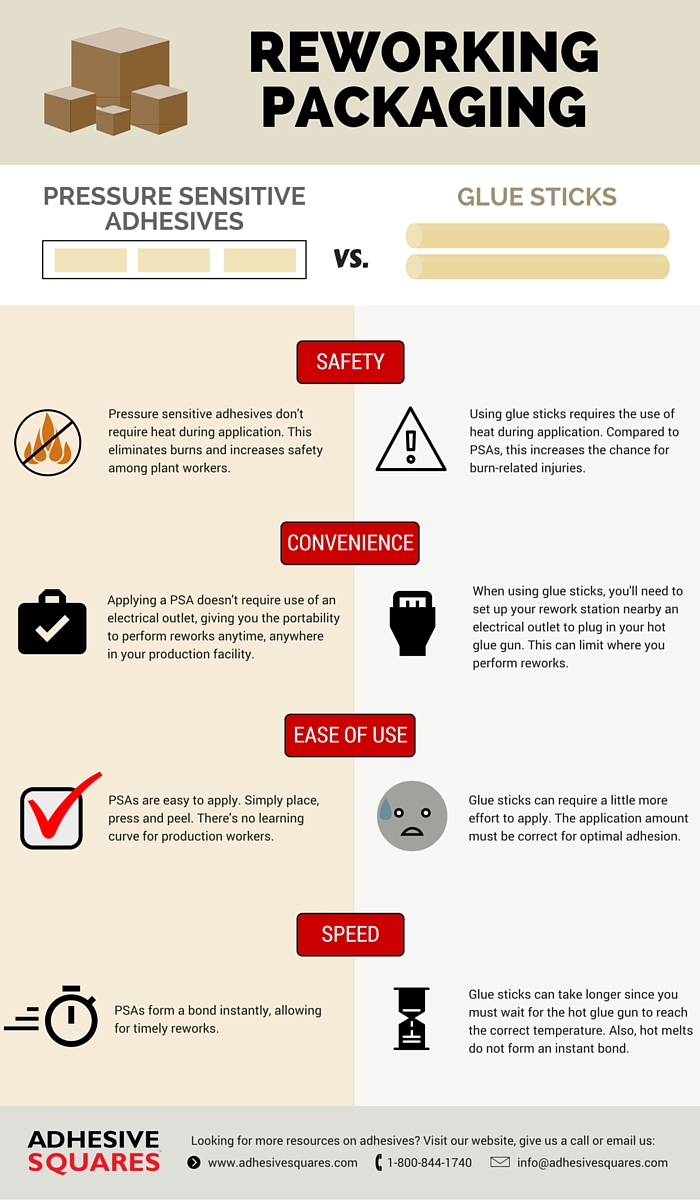 Double-sided tape on a liner with pressure-sensitive adhesives is a quick, safe solution that can be easily applied anywhere in your facility for reworks. While glue sticks can get the job done, double-sided tape has a lot to offer to increase the overall efficiency in your plant.
Our product line of Adhesive Squares double-sided tape provides an excellent alternative to glue sticks. For more information about Adhesive Squares or to request a product sample, contact our technical service team at 1-800-844-1740 or use the contact form below. We are here 24/7 to discuss your specific application in more detail.