What makes a quality product? Think about the reasons you might purchase a product and possibly make repeat purchases. It might be due to the product's aesthetics, its ability to make your life easier, or perhaps its reliability. Each customer has their own idea of what quality means to them. At the end of the day, quality is about meeting customers' overall expectations, whatever they may be.
For companies in the assembly industry, the key to producing a successful, quality product is consistency–manufacturers must ensure that they maintain a consistent production process.
A common error during application is the inconsistency in the amount of adhesive applied. Often, too much or too little of the adhesive is applied, impacting the quality of the final product. All it takes is one quality mistake to damage a brand's reputation.
Pressure-sensitive, double-sided tape provides the exact dimensions and amount of adhesive required to meet your plant's quality and consistency standards.
How does an exact application amount benefit your production?
Reduces variability in application
Reduces non-conformance
Reduces waste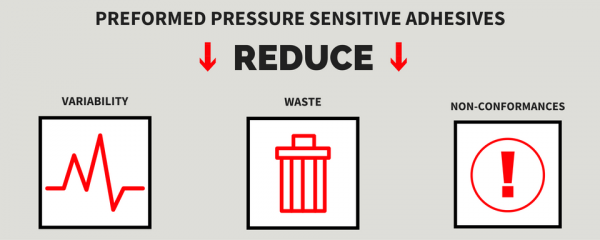 Double-sided tape provides the exact application amount needed – not too little, and not too much. You get just the right amount of adhesive each and every time for consistent application. Not only is the adhesive amount consistent, but so is the method of application. Simply place the adhesive onto your desired substrate, press down, and peel the liner to join materials.
Our line of Adhesive Squares double-sided tape provides an easy-to-use solution for increasing consistency, ensuring production efficiency and product quality. Want to discuss your specific application and find out how a double-sided tape could benefit your process? Give our technical service team a call at 1-800-844-1740 or use the contact form below.