Have you ever received a package that seemed nearly impossible to open? That no matter how hard you tried, you had to slice it open with a box cutter? While a package that is difficult to open may seem like a pain, it benefits both the consumer and retailer by providing maximum security of high value or vulnerable products during shipping and storage.
No one wants to receive a package, only to find that the seal has been tampered with and the product is missing. And no retailer wants to send out a product replacement or file a shipping claim – both of which hurt your bottom line.
Selecting a Sealing Tape: Security Tape vs. Double-Sided Tape
Typically, a one-sided security tape is applied to the exterior of the box to prevent tampering. Although security tape is a popular choice, applying a double-sided, pressure sensitive adhesive to the interior of the box provides additional security to protect the contents of your package.
The major difference between a security tape and a pressure-sensitive, double-sided tape is that security tape is visible to the eye, while a double-sided tape is not. As a result of its visibility, there are some disadvantages you might experience with using a security tape. Applying double-sided tape with pressure-sensitive adhesives on a liner offers many advantages where a security tape may fall short.
We've put together an infographic showing how a double-sided tape and security tape compare: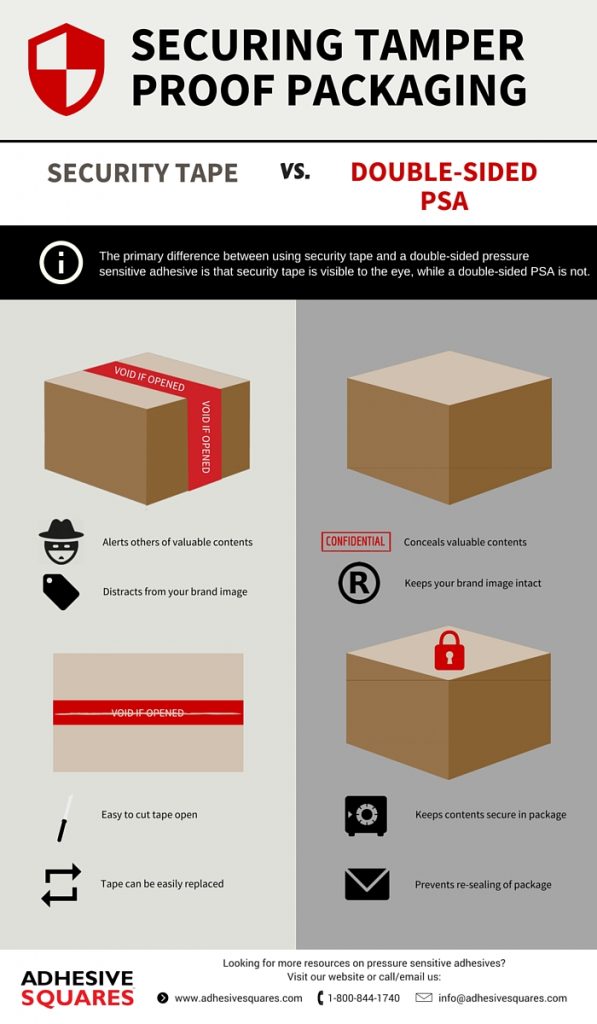 Features of a double-sided tape:
Conceals valuable contents
Keeps your brand image intact
Secures package contents
Prevents re-sealing of package
We offer a line of Adhesive Squares double-sided tape products that provide an excellent alternative to security tape. For more information about Adhesive Squares or to request a product sample, contact our technical service team at 1-800-844-1740 or use the contact form below. We're available 24/7 to discuss your specific application in more detail.