You've likely heard the expression "all hands on deck." It's about everyone coming together to accomplish something in an often short amount of time. For instance, manufacturers often have to meet quick turnaround times. The job has to get done with the resources you have to meet production standards. But what if you need more hands than are available?
Double-sided pressure sensitive adhesives are an efficient solution that can be used in conjunction with fasteners or final adhesives during assembly. PSAs are certainly capable of permanently mating substrates together for certain assembly applications, but they also act as a "second set of hands." They serve as an assist to hold your substrates in place until permanently fastened or adhered.
Using a PSA as an assist provides many benefits during assembly:
Instant bond – No cure time speeds up production speeds
Extra set of hands – PSAs free up your hands by holding substrates in place for you
Repositionable – Flexibility to reposition substrates before final assembly
Versatility – Numerous tack levels can hold almost any substrate in place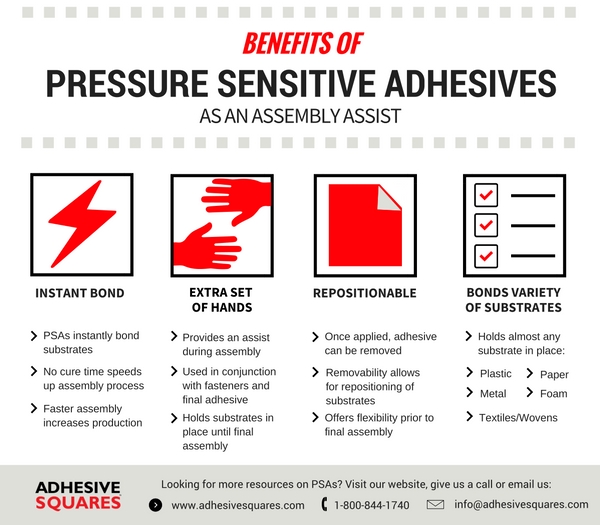 When used in conjunction with fasteners and final adhesives, pressure sensitive adhesives provide the assist you need to hold substrates in place. This provides any wiggle room you may need to prevent costly errors and ensure accuracy before final assembly.
Our line of Adhesive Squares™ is designed to increase the speed and efficiency of your assembly operations, increasing your production. Want to discuss how a PSA might benefit your current assembly process? Call our technical service team at 1-800-844-1740 or use the contact form below.